Jae's "Best Value Favorites"

Posted at 11:00 - July 24th, 2019 - Megan & Jae - Education Guides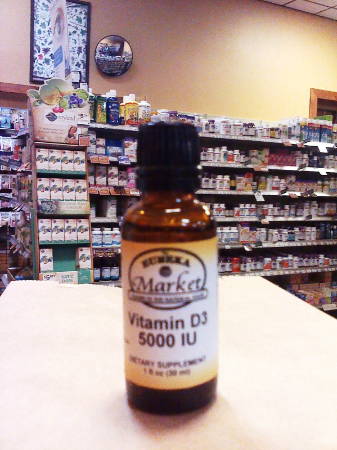 Eureka Market Vitamin D3 5000 Liquid
Most people think a small amount of sun exposure will provide adequate Vitamin D, but the latest research has revealed that idea is false. The newest information regarding Vitamin D has indicated that we need a minimum of 5000IU's per day, so for most people, supplementation is necessary.
Vitamin D is a fat-soluble vitamin that is critical for many body systems including skin and bone health, immune function and pain management. Due to its growing popularity, there are countless Vitamin D supplements on the market.
Many of the supplements use various oils as their base. One of the most common oils is lanolin, which is derived from the oil found in sheep fur. Other oils include canola (shown to have high pesticide residue) and olive oil, both of which are susceptible to rancidity.
My favorite base for Vitamin D is MCT oil because of its health benefits. MCT's, or medium chain triglycerides, are unique fatty acids derived from coconut oil. MCT's can be absorbed directly through the digestive system and then transported to the liver where they are used as a fuel source by the body.
Because the Eureka Market Vitamin D is supplied in a base of ONLY MCT oil, it is an optimum choice for getting critical Vitamin D along with the added bonus of MCT oil. This versatile liquid can be put in smoothies, protein shakes, dressings, etc. At the recommended dose of 5000IU's per day, this little bottle provides 177 servings for only $13.99!
Natural Factors Wild Alaskan Salmon Oil
Because many people do not get enough of the Essential Omega-3 Fatty Acids, we are often told to eat fish 3 times per week. A favorite way to accomplish this is to choose salmon, which is a great food source for Omega-3's.
Supplements made from 100% wild Alaskan salmon oil can also provide the full spectrum of 17 synergistic, active fatty acids. Did you know that beyond the Omega 3's there are also Omegas 5, 6, 7, 8 and 9? Salmon includes all these Omegas and is one of the most comprehensive sources for obtaining our critical healthy fats. The two most important Omega-3 fatty acids are EPA and DHA, both found liberally in cold water fish such as free-swimming salmon.
Important benefits:
    -Supports cardiovascular health, cognitive health, and brain function
    -May reduce joint pain, inflammation, and rheumatoid arthritis symptoms
    -Helps maintain healthy cholesterol, blood pressure levels and mental/emotional health
    -Excellent for eye and nerve health
    -May improves skin texture and quality  
    -Provides a full spectrum of fatty acids including EPA and DHA
    -Derived from an ecologically friendly, sustainable source, under strict conservation guidelines
    -Utilizes clear enteric soft gels for targeted delivery with no fishy aftertaste
Natural Factors' Wild Pacific Salmon Oil soft gels are derived exclusively from wild, NOT farmed, salmon. The wild salmon used to produce the oil comes from the pristine waters of Alaska, where the deep waters of the north pacific are amongst the most unpolluted in the world. The salmon are harvested according to strictly regulated, conservation guidelines. No endangered species are used. And the only "other ingredients" are the gelatin capsule, vegetable derived glycerin, water, pectin (fiber from fruit) and Vitamin E (whose antioxidant function serves as a natural preservative).
Because of the comprehensive Omega content (usually found in much higher-priced products), its wild Alaskan Salmon source, it's clean formula and it sustainable practices all at the excellent price of $13.99, this product is one of my "Best Value Favorites".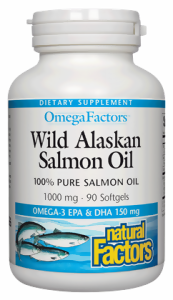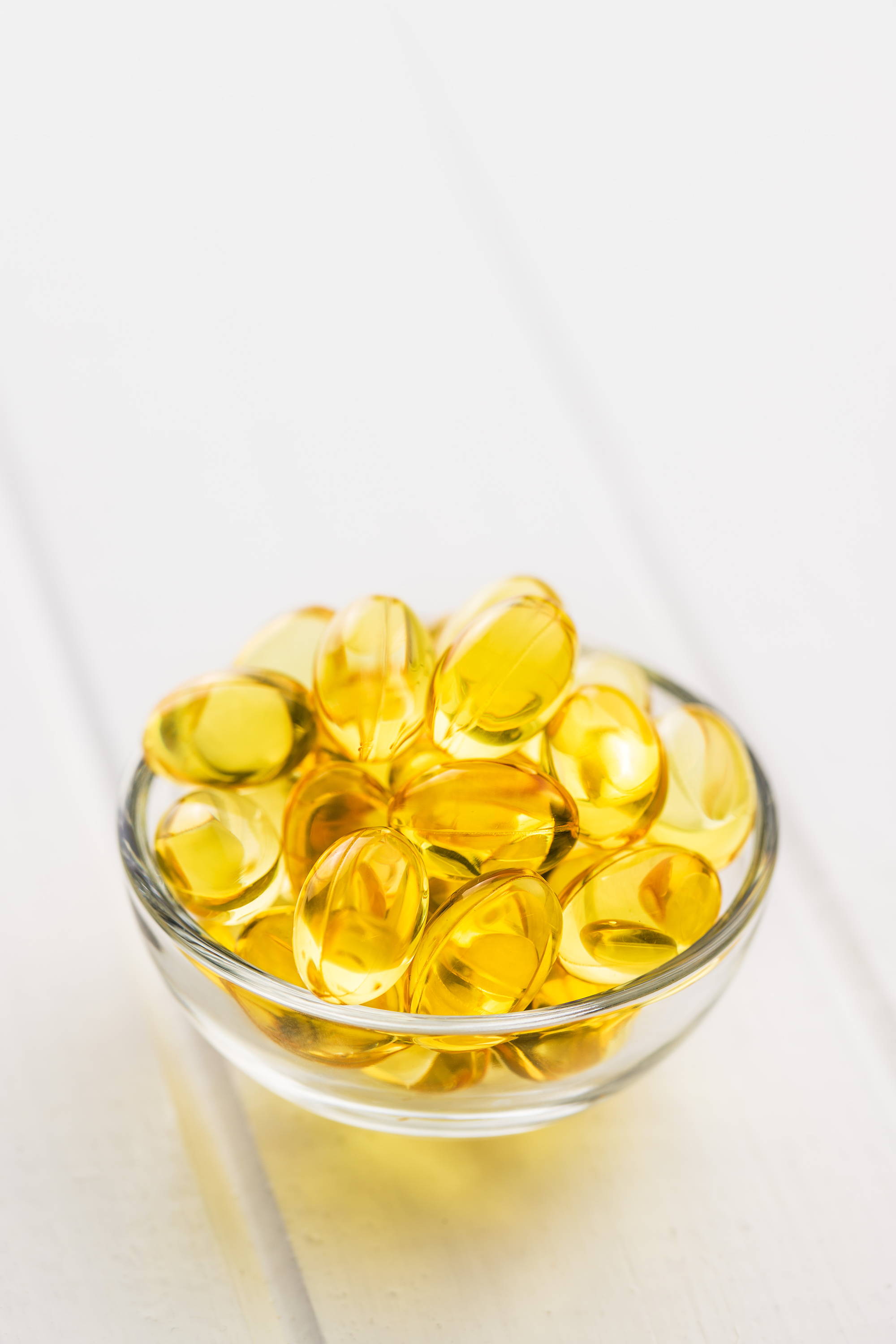 Solaray Vitamin E Liquid
A fat-soluble nutrient, vitamin E acts as an antioxidant, helping to protect the body's cells and DNA from free radical damage. We are exposed to free radicals found abundantly in the environment including tobacco smoke, air pollution, ultraviolet sunlight, chemical contaminants, etc. Vitamin E has been found to support the repair of wounds and regeneration of the extracellular tissue.
Additional functions of Vitamin E:
Enhancing immune function including the ability to repel invading bacteria and viruses

Widening blood vessels and helping to keep blood from forming damaging clots

Cell-to-cell communication

Supports neurological functions and the inhibition of platelet clumping

Helps prevent oxidative damage of polyunsaturated fatty acids

It supports the critical antioxidant glutathione (required for liver health)
Complete Vitamin E food sources include 2 groups: Tocopherols and tocotrienols. Each group includes 4 components: d-Alpha, d-Gamma, d-Delta and d-Beta. When reading the labels of most vitamins E supplements, only the the tocopherols are included and often only the d-alpha component.
The Solaray Liquid Vitamin E is one of the most advanced and comprehensive Vitamin E formulas on the market. It includes the full range of tocopherols along with the tocotrienols. The latest research is now revealing the synergistic importance of including ALL the components of natural Vitamin E. Nutrients consumed in the complete form, as they occur in nature, are more readily usable by the body.
Being in liquid form, Solaray's Vitamin E offers specific advantages:
-It's readily digestible
-It's great for topical use
-As a natural preservative, many people use it in their cooking oils to help preserve their viability.
Sources:
Naturalhealthyconcepts.com
Naturalfactors.com
Mercola.com
Livestrong.com
---

Megan is our product curator and store visionary. Personally vetting every product that comes through the door, she evaluates thousands of items each month with a focus on quality ingredients and value. Well-schooled in the supplements department and the editor of our in-store newsletters, she still insists her main job is raising three daughters! (Wichita, Kansas)
2019 marks Jae's 20th year working as a Holistic Nutritionist and Supplement Specialist in the Health Food industry. This environment has afforded the opportunity to discuss health issues and solutions with thousands of customers and clients. Along the way, she has acquired multiple certifications including biogenealogy, environmental biology, holistic nutrition and various healing modalities. She is currently studying to complete a Ph.D in Holistic Nutrition.
All Eureka Market Education Guides are intended for educational purposes only. The guides are NOT intended to substitute for professional medical consultation and as such, do not diagnose, prescribe or offer personal medical advice. Always consult with your health care professional before taking supplements with prescription medications.
Vitamin C or Ascorbic Acid?
Vitamin D: Why It's So Important

Essential Omega-3's: An Amazing Plant-sourced Option